`
Director's Message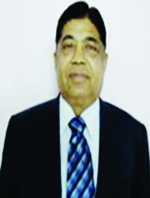 "Knowledge is nothing but finding unity in the midst of diversity." Swami Vivekananda The need of the hour is knowledge. The direction in which education starts will determine a man's future life. Education is a very sensitive and delicate responsibility the society has given in the hands of the educational institutions.
We are committed to our profession. This is not merely a profession for us but a mission. Every concerned is loyal & dedicated to this mission of building the future of this nation. Present scenario of education is changing rapidly and to keep pace with the changing world is not an easy task. Nowadays the all round development of a child has become very essential rather than simply acquiring excellence in academics.
Reading is an important part of education the teachers need to have knowledge and skills to use new digital tools and resources to help all students to achieve high academic studies. New possibilities are emerging and exist largely as the result of involvement & digital technology educational development process. Our school facilitates all round education by encouraging the students to participate in games, cultural activities and performances annual days, educational tips integration programs special assemblies and celebrations and similar enriching activities.
In our efforts to deliver quality education, we emphasise more on the need to establish one to one contact with every student and be attentive to his/her need so that the our teacher can monitor individual's progress and guide them accordingly on the way to success.
DIRECTOR'S, Sai Baba Public School